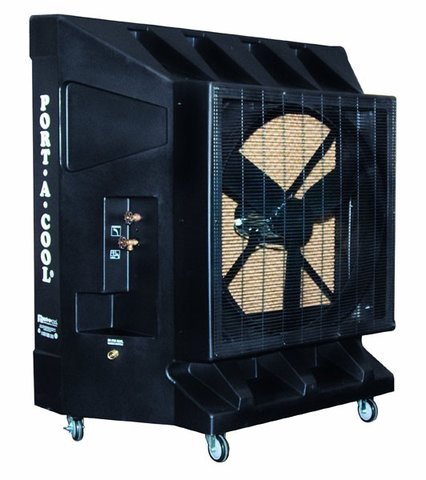 Party Extras
36" Port A Cooler
Actual Size: 62" x 32" x 67"




This High Performance Variable Speed Poot a Cool model produces 10,100 CFM air delivery for maximum cooling efficiency with a variable fan speed control for precise air flow settings to insure convenience and comfort in areas up to 2,650 sq.ft. The fan and pump operate with minimum noise, featuring whisper quiet operation to avoid distraction while in use.
We offer a weekly rate at $395.00 and a monthly rate at $795.00. Price includes delivery and pick up.
A $25 delivery fee is also required
This new powerful High Performance Variable Speed Port-A-Cool® model uses only 6.2 amps, 115VAC, 60Hz for optimum efficiency and energy savings. The average operation cost is only $1.00 per day! (based on .76 kw per hour and a national average of electricity and water costs during an average 8-hour day).

This model is useful for large areas including factories, warehouses, assembly lines, laundries, large kitchens, welding shops, auto service garages, outdoor loading docks, outdoor restaurants, swimming pools, tennis courts, golf driving ranges and hundreds of other otherwise "impossible" places that need cooling, b