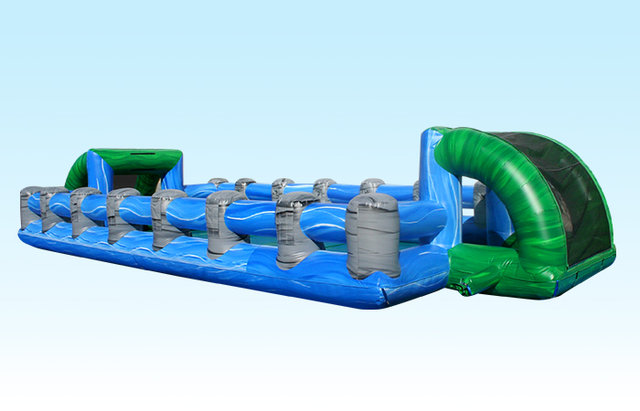 Multi Player Game
Human Foosball
FUN FUN FUN!

Actual Size: 45' x 20' x 7'
Setup Area: 55' x 30'
Outlets: 2 Outlets Needed
Age Group: All Play
Attendants: 1 Adult Superviser




The Game
• Human Foosball is like the classic table top Foosball, however, it is played with real people, a soccer ball and in a large enclosed arena. • Two teams compete against each other to score the most goals in the allotted time. • Each team consists of 6 players, in 3 different rows that must face the opposing team's goal at all times: 1 goalie, 3 mid-fielders and 2 forwards. • 6 poles are laid cross the arena with a sleeve over each. The sleeve allows the players in each row to move laterally along the pole, but not forward or backward. • The game is played in two halves. • Teams change sides after half-time.
Game Play
• Players will be positioned at the appropriate places in the arena. • Players must keep both hands on the bar at all times, and one foot must be touching the ground. • The game starts by the ref rolling the ball into play from the mid-field area. • Play continues until a penalty occurs, a goal is scored, or the timer runs out. • Players can only move laterally from side to side. Mid-Fielders and Forwards must work together to move side to side. Teamwork is key.
We reserve the right to change colors, shape and size do to revolving interventory.